I
t's no secret how much I love jewelry. I mean, I never ever leave my house, snap a selfie, or hop on a video without a necklace. I just feel, well, naked without one. There's something about jewelry. It can take the most basic outfit and make it something special.
The standard t-shirt and graphic tee become an outfit if you add a necklace. A gorgeous dress becomes truly transcendent when you add a pair of amazing chandelier earrings. Even if you're not a jewelry person, it's worthwhile to build at least a small collection of jewelry.
But it has to be jewelry you love and will actually wear. If you don't like delicate jewelry, don't go buying those tiny Kendra Scott necklaces. If you don't like statement jewelry, don't go buying one of those massive bib necklaces from Chico's.
There are so so many places to buy jewelry, from Walmart to Neiman Marcus. It can be kinda overwhelming.
So, I'm breaking that massive list down to…
The 5 absolute best places (IMHO) to buy affordable jewelry (in no particular order)
Charming Charlie's
A veritable smorgasbord of accessory heaven, Charming Charlie's is an amazing place to buy jewelry (and, well any other type of accessory).
One of my favorite things about the store is that everything is organized by color. If you need a blue necklace to go with your amazing new pink top, you don't have to sift through a bunch of pink or yellow pieces to find what you're looking for. And while the prices are super affordable, the quality is pretty decent for what you get. I'm a huge fan of their necklaces and handbags. One of my favorite bags ever is a hot pink number my bestie gave me for Christmas.
Premier Designs
While not technically a store, Premier Designs jewelry is another amazing option for affordable, durable jewelry. One of the things I love most about it is the huge variety of shapes, styles, and colors. Whether you love delicate jewelry or big pieces that make a huge statement, Premier Designs has something for you. And while the prices aren't quite as affordable as Charming Charlie's the quality is amazing, and Premier backs their jewelry with a good guarantee.And, since it's a direct sales company, you can save money by hosting a party, or even just
Since it's a direct sales company, you can save money by hosting a party, or even just buying $100 of jewelry on your own and getting the hostess rewards that way. The last time I bought Premier Designs, I spent about $160 and got 3 necklaces and 2 sets of earrings. Not too shabby, since I wear all of it all the time.
Etsy
If you really want to stand out, you can't go wrong with Etsy. From traditional pendants to upcycled works of art, Etsy is the best place to go to find something truly unique. It's a veritable black hole of jewelry awesomeness and variety and the perfect place to buy things that you won't see on anyone else.
I recommend browsing around and then favoriting the stores that have a style that resonates with you. Also, stick to handmade pieces on Etsy. Unfortunately, there are a lot of stores that are just selling wholesale stuff from China (which is still great and has its place), and that's really not what Etsy is about.
I also recommend making sure that the store is shipping their stuff from the US, otherwise you'll be waiting forever, and if you do need to make a return, you're kinda screwed. The green necklace is an upcycled piece by BluKat Designs.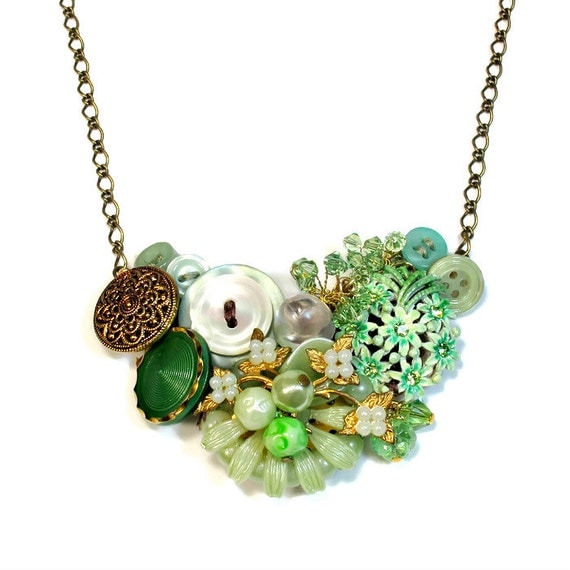 Again, not really a store, but an amazing way to try new things without the commitment. Rocksbox is a jewelry subscription box that's also a rental service. A subscription is $19 a month and gives you 3 pieces of jewelry at a time. The packaging is lovely, and the selection is really good.  One of my favorite things about
The packaging is lovely, and the selection is really good. One of my favorite things about Rocksbox is that they have you go through their inventory and create a wishlist. That helps the stylist send you things that you'll like and wear. You can keep each 3-piece set for as long as you want, then send them back and get another set whenever you want. You can also choose to purchase 1 or all of the pieces in your box at a discount (and the biggest discount is if you buy all 3 pieces).Rocksbox is especially good if you like Kendra Scott. I got a great pair of druzy earrings for, like, $25 in one of my Rocksboxes.
Rocksbox is especially good if you like Kendra Scott. I got a great pair of druzy earrings for, like, $25 in one of my Rocksboxes.
Yep. You can buy pretty much anything on Amazon, and jewelry is no exception. It's important to take into account that if the price is too good to be true, the piece is probably going to fall apart after you wear it once or twice.
When I'm looking for jewelry on Amazon, it's typically something I've seen in a store or somewhere else, and I'm checking Amazon to see if I can get a better price. I also recommend only buying pieces that have free or Prime shipping (you do have a Prime membership, right?) so that you can return things without ending up paying more in shipping than you did for the actual jewelry. If you are considering a generic/non-brand name piece, be sure to take a good look at the photos. Keep an eye out for obvious quality issues, like chain links that don't line up or gaps between stones.
Need more jewelry inspo?
Follow my jewelry board on Pinterest for a massive variety of jewelry awesome.
This post contains affiliate links.